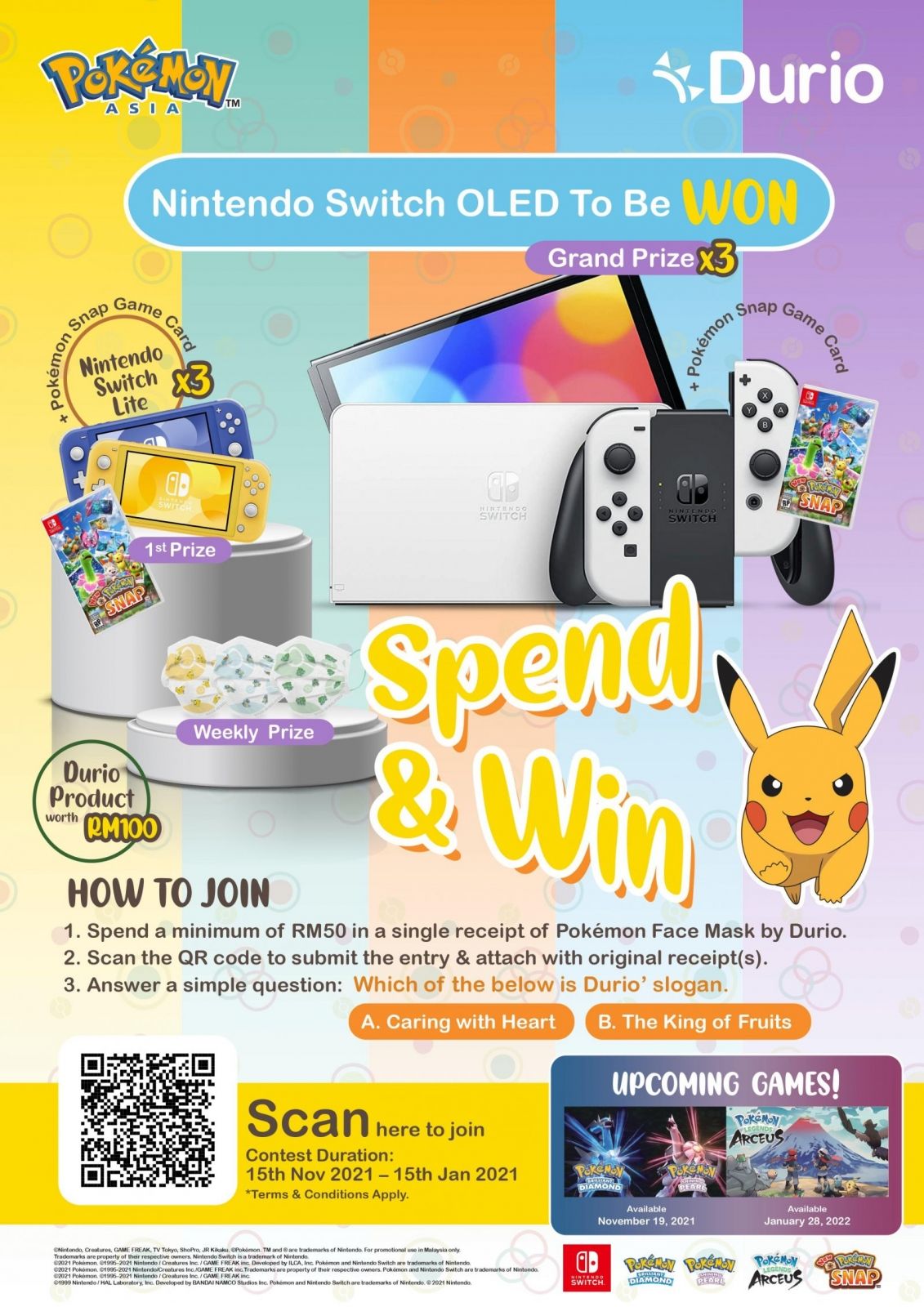 Contest Period & Entry Criteria
This Contest will commence from 15th November 2021, 12:01 AM until 15th January 2022 at 11:59 PM (Malaysian Time) [''Contest Period''].
Any entries received beyond the Contest Period will be rejected and deemed invalid.
Eligibility
This Contest is open to all Malaysia citizens above and hold a valid identification card except the employees and immediate families of the Organiser, including its affiliated and/or related companies, distributors, dealers, advertising and promotion agencies.

To participate in the Contest:
To participate in this contest, participants must comply with each of the following: -
Step 1: Participants must spend a minimum RM50 of Pokémon Face Mask by Durio in a single receipt from any reseller (online or in-store) within the Contest Period.
Step 2: Scan the QR code or log in to https://forms.gle/qstTMbxsoSqgE1ki9
Step 3: Complete the online form by filling in all the empty fields including a simple Q&A and click on submit.

Multiple entries are permitted. Retain original single-receipt or order dated within Contest Period that matches the online entry as proof of purchase.
In-store purchase- Original and valid printed receipts will be accepted;
Online purchase- Screenshot of completed order with details of Order ID will be accepted;
Manual/hand written receipts will not be accepted.
Receipt that is illegible, mutilated, altered, duplicated, tampered with, not obtained legitimately, contains printing typographical, mechanical or other errors or the printing is unclear or does not contain the required information is invalid and will not be accepted. The Organiser reserves the sole discretion and rights to disqualify such invalid receipts.
Winning Selection & Announcement
Winners will be selected based on criteria determined by Durio PPE in its sole and absolute discretion.
We may opt to announce the results of the Contest in our social media page and/or other online platform own and operated by us every week for "Weekly Prize"; and all other winners on 25th January 2022. We may ask for your personal information for verification purposes and/or to arrange for delivery of the prizes.
Each potential winner is responsible to respond to the announcement and provide their details (full name & e-mail address) within 7 working days from the date of Notification. Failure to do so, prizes shall be forfeited or disposed of at the discretion of Durio.
Durio PPE reserves the right to disqualify or reject, at its sole and absolute discretion, any contestants and/or revoke or forfeit any prizes at any stage of the Contest.

Prizes
Contest Period
Date of Receipt
No. of Winners
Prizes

15th Nov 2021-
15th Jan 2022

15th Nov 2021 –
15th Jan 2022
3
Grand Prize:
1 set of Nintendo Switch OLED +
1 pc of Pokémon Snap Game Card
3
1st Prize:
1 set of Nintendo Switch Lite +
1 pc of Pokémon Snap Game Card
8
Weekly Prize:
Durio Product
(worth RM100)
The value of the prize is correct at the time of printing. Prizes are not exchangeable for cash or other deals or goods or credit of any kind. Durio PPE reserves the right at its absolute discretion to substitute any of the prizes with alternative prizes or similar value at any time without prior notice. The prizes are given on an "as is" basis.
Terms and Conditions:
This contest is organized by Durio PPE Sdn Bhd (''Contest'').
The Contest is governed by the terms and conditions (including any amendments made thereto by Durio PPE from time to time) herein contained ("Terms and Conditions").
By participating in the Contest, it shall be deemed that you have read, understood and accepted the Terms and Conditions any other relevant terms applicable and available on Durio platform and by the decisions of Durio's, which shall be final and binding in all respects.
Please do not proceed with the participation of the Contest if you do not accept any of the Terms and Conditions.
By participating in this Contest, participants consent to give their personal information and the Organiser reserves the right to publish, use the winners' names and/or photographs plus their entries for purposes of publicity, advertising and/or trade without further compensation or notice and each participant is not entitled to make any claims for the use of their entries by the Organiser.